If you wish to use Live polls during your Slido event, you must create them first and then activate them. Please bear in mind that activating multiple polls at once is only available in our paid plans using the Survey feature.
In this article:
Types of polls we offer
In total, you can choose from 6 different types of Live polls in Slido:
Create and run your polls
Choose a poll type you wish to use, add your question, and either hit Save or Launch.

Please bear in mind that your polls are mainly meant for real-time interaction and that participants can vote in polls only when they're active. You can activate a poll either by clicking Launch when creating it or by hitting the green Activate poll button next to it.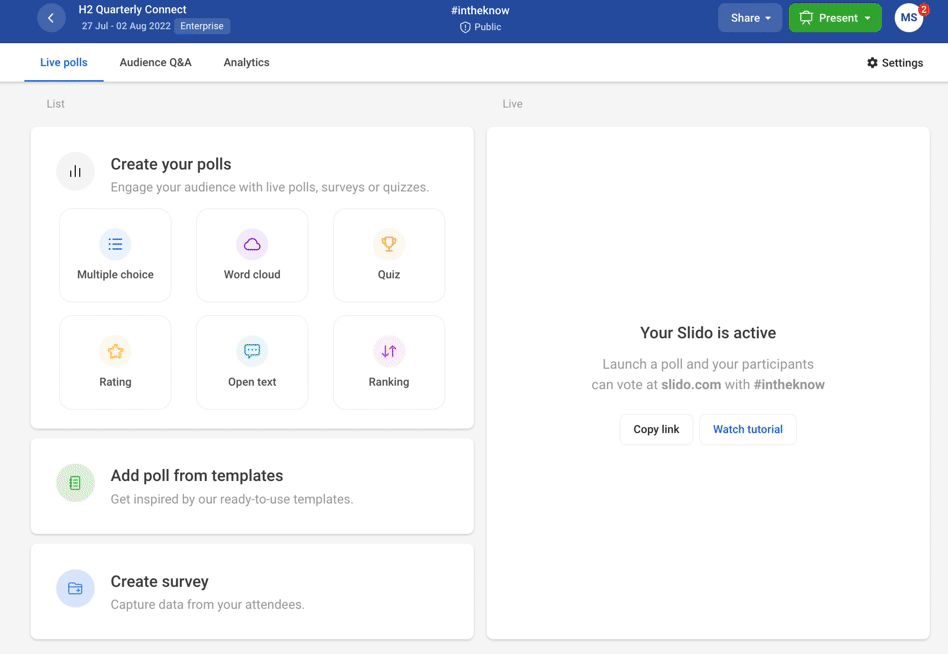 If you wish for participants to vote in a poll asynchronously or outside of your set event dates, share the direct poll link with them. 
Testing a poll
To test your polls from the participant's perspective, open the Participant mode widget on the left-hand side, submit a test vote and then reset the results once you're done.
Working with polls
There are several poll settings that you might find handy: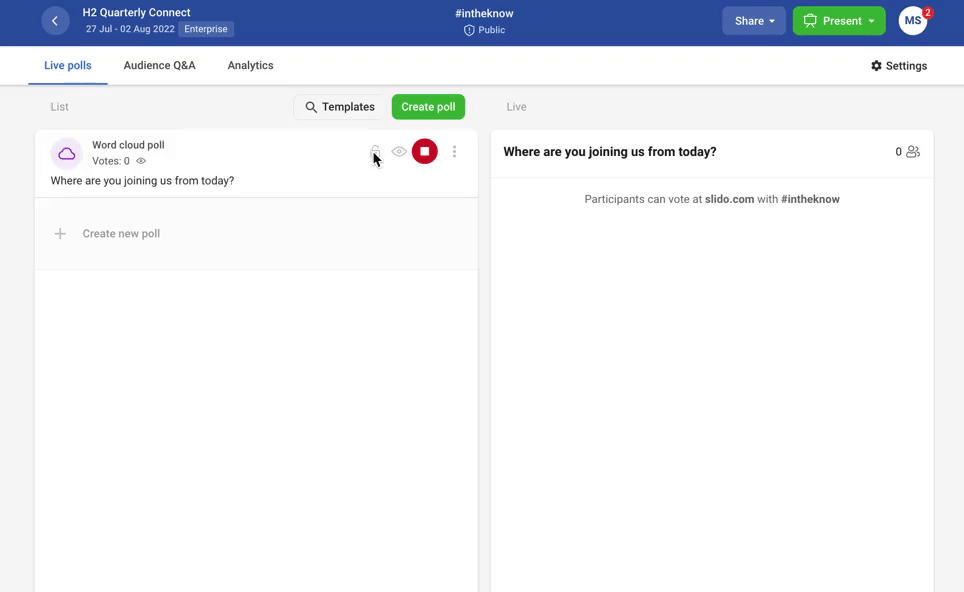 Additional poll settings
If needed, there are 3 additional settings for polls that you can find under Event settings → Features → Live polls.
Fixed order of poll options - Slido will not automatically randomize the options in your multiple-choice polls
Vote counter - Show how many participants voted in your poll in Present mode
Poll results - Show absolute number of votes instead of percentages when running a multiple-choice poll
Exporting poll results
With our paid plans, you can also Export your poll results under Analytics → Export.
We offer 2 different types of poll exports:
Poll results - overall poll results all in one file
Poll results per user - overall poll results categorized based on how each participant voted
If you want to see who voted in your poll, you'd need to set it up beforehand under Privacy settings and then Export the poll results per user after the event.
 
Continue reading: