Participants in a Webex meeting can launch Slido without the need of being a meeting host. Anyone can open their existing Slido polls and Q&A, or create them from scratch during a meeting. This is especially useful for facilitators who are not Webex hosts.

The host can remove or override a participant's Slido anytime by stopping it or launching their own. They could also disable the option completely by turning off the Anyone can share functionality in their Webex settings.
If a host opens Slido first during the meeting, participants can't launch their own.


In this article:
Essential Requirements
Slido needs to be approved and enabled in the Webex Control Hub by a full Webex admin
Webex desktop App version 41.6 or later on Windows or macOS.
The following domains need to be allowed in your network firewall: slido.com, auth.slido.com, *.slido.com, sli.do, *.sli.do, webexapis.com
Current Limitations of the Webex and Slido integration
Only one participant can activate Slido per meeting
If a participant launches Slido, only the host can override this action by stopping the participant's Slido or opening their own Slido
After a host adds Slido, participants are unable to launch their own
'Anyone can share' option needs to be enabled in Webex meeting settings
Not available in Webex Webinars
Not available in Webex Events
Space meetings are not supported yet
Webex shared devices and personal devices for hosts are not supported yet
Not available for FedRAMP and end-to-end encrypted meetings

Check the following article to understand different Slido and Webex roles.
How it works: Participant perspective

Once the host starts the meeting, any participant including facilitators, cohosts, guest collaborators and speakers can launch Slido. 
To launch Slido as a participant: 
Go to Apps and click Slido

Select your existing Slido or create a new one

Launch your prepared poll or create a new one right away. You can also enable Q&A if preferred.  
 
Learn more about how to use Slido in Webex Meetings. 
To prevent someone making Slido live for everyone accidentally, you'll need to confirm launching a poll or enabling Q&A one more time: 

Once a poll is launched or Q&A enabled, Slido will be visible for everyone in the meeting. Other participants and the host will be able to ask questions (if Q&A was enabled) and vote in polls.
How it works: Host perspective
As a meeting host, you can: 
Stop a participant's Slido
Override it completely by launching your own Slido or 
Disable Slido for participants by turning off the 'Anyone can share' option in Webex Meetings. 
Stop a participant's Slido

Once a participant launches a poll or enables Q&A, you as a host will see the option to "Stop Slido" in the sidebar.  
 

Once you do so, the participant's Slido is still active in the Webex meeting, and the same participant can launch another poll. You will be able to stop it again. 

If you wish to collaborate in their Slido, you can request access to it. Or, you can use your own Slido which will override the current participant's Slido.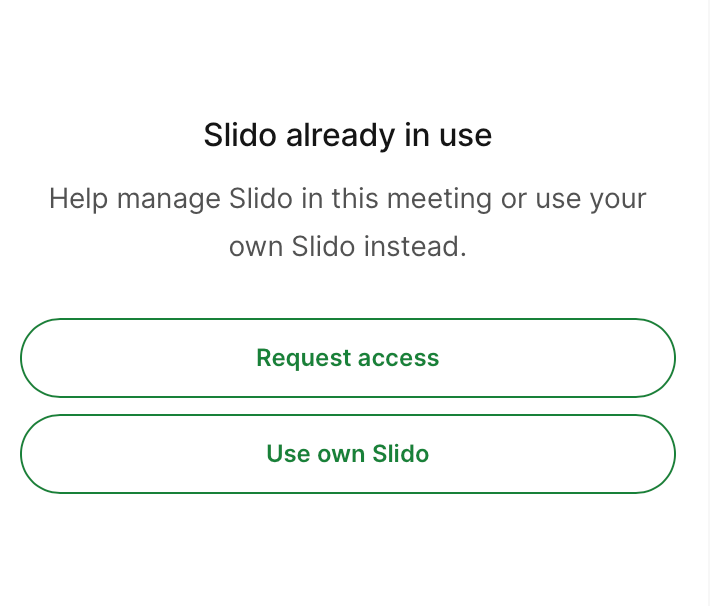 You can request access to Slido only if the participant who launched it is from the same Webex organization. 
Override a participants's Slido
To override a participant's Slido:
Go to Apps
Select Slido from All (apps)
Choose your existing Slido or create a new one:
If you initiate Slido before any participant, or if you override Slido launched by a participant, no one else in the meeting will have the option to start their Slido afterwards. They will see "Only a host can see this panel" message in Apps > Slido.

All participants will be able to interact in your polls and ask questions (if Q&A was enabled).
Disable the Anyone can share option
You can disable Slido for participants completely by turning off the 'Anyone can share' option in your Webex Meetings Settings. Please note, that this will also disable the ability for participants to share their screen. 
How it works: Cohost perspective

During a Webex meeting, cohosts can vote vote in polls or ask questions in an active Slido. As a cohost you get an automatic option to request collaborator access to Slido from Apps, n​​​​​o matter if Slido is launched by a participant or the host.
 
Once you go to Apps > Slido and click request access, you will see the 'pending' message until the request is approved. 
 

After your access is granted, you'll be able to activate and deactivate polls or moderate Q&A in the active Slido. As a collaborator, you can no longer vote in polls and ask questions from Webex sidebar.
Curious about more?