If you're a host in Webex meeting and using Slido, you can add a guest collaborator to help you manage Q&A and run the polls. 
Essential requirements and limitations: 
Only people from the same Slido/Webex organisation can be added as collaborators. External collaborators can log into Slido at slido.com to help with managing polls and Q&A's. 
The host needs to add Slido to the meeting before any guest collaborator can access the admin view in the sidebar.
Collaborators in Webex Meetings don't need to be a co-host.
Collaborators in Webex Events (webinars) have to be a panelist to see Apps.
To add a guest collaborator: 
Go to slido.com and select 'Log in with Webex'
Once you're logged in with your Webex credentials, select the event you're using in Webex, or create a new one
In your event, go to Settings and expand the Share access section
Type in the email address of the person you'd like to add as a collaborator and click 'Invite'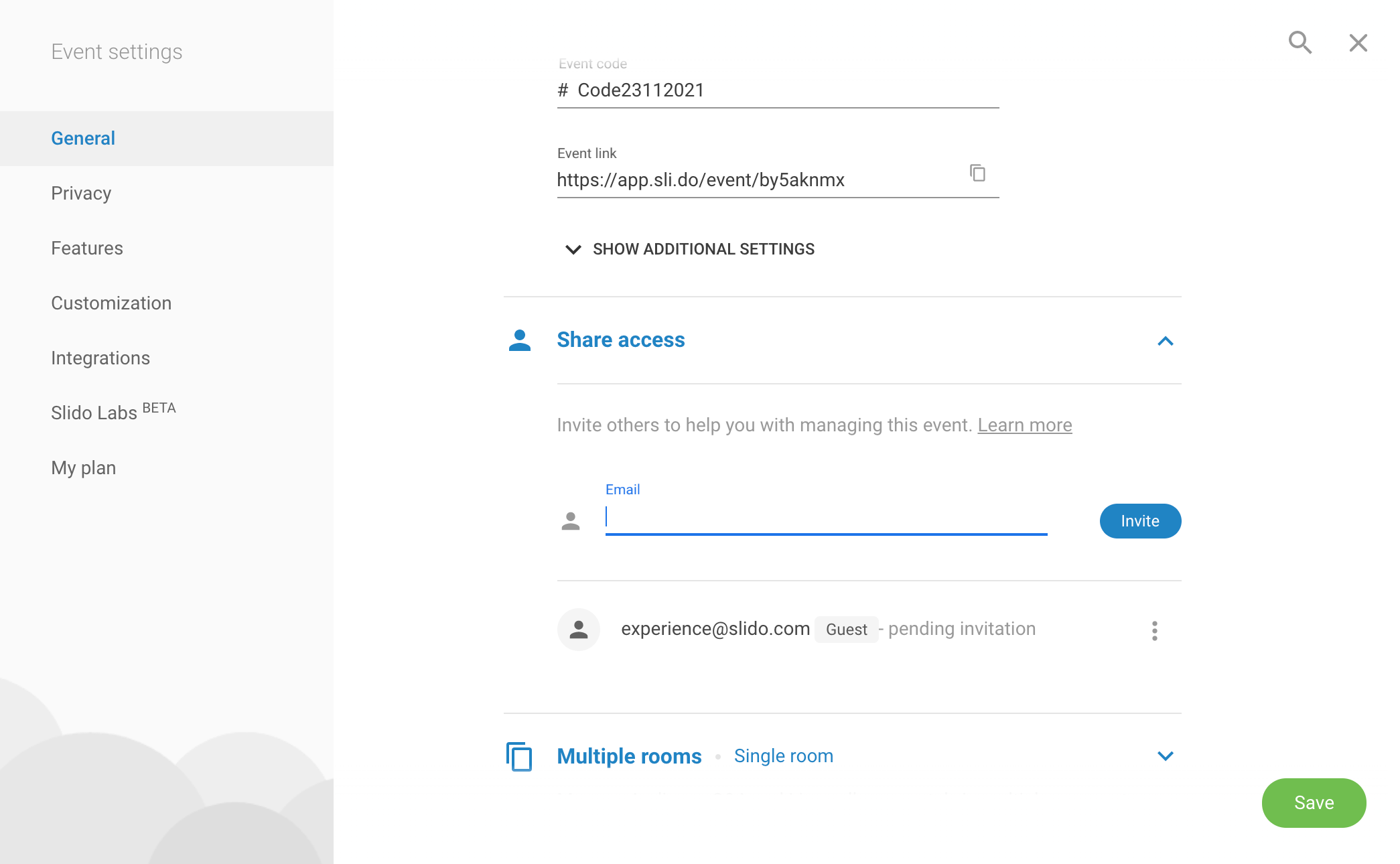 During the meeting: 

Once you start your Webex meeting, make sure you've selected the correct Slido in Apps > Slido. You as a host need to add Slido to the meeting before any guest can access admin mode in Webex sidebar.

After you add Slido to your Webex meeting, the collaborator should see the Slido session they've been invited to right away after they open Slido via Apps.  


 
Frequently Asked Questions
 
Can I add someone outside my Webex organization as a guest collaborator?
Yes. To invite external guests, you'll need to exclude them via SSO settings. To do so, please scroll down to the "Invite guests when Single Sign On is set for your Slido Organization" in the article below.

Please note that external guests need to sign into Slido at slido.com to help manage Q&A and polls. The direct Slido integration in Webex is only available for guests within the same Slido/Webex organization.
Curious about more?