You can use Slido live polling and Q&A directly in Webex Meetings with our seamless integration.

Slido is also available in Webex Webinars.
 
All Webex customers with paid plans (except FedRAMP) can now use the full Slido functionality which corresponds with Slido Enterprise plan. 
Essential Requirements
Current Limitations of the Webex and Slido integration
Slido in Webex is available for hosts on desktop app only: hosts need Webex Meetings on Windows or macOS
Internet Explorer 11 are not supported
Space meetings are not supported yet
Webex shared devices and personal devices for hosts are not supported yet
Not available for FedRAMP and end-to-end encrypted meetings
Ideas feature is not available in the Slido integration in Webex
Participant data of external participants are not available in analytics and exports
In this article:
Watch the video or continue to the tutorial below: 
 
Start your Webex meeting and open Slido

You can access Slido directly in your Webex meeting, regardless of whether it's a scheduled meeting or an ad-hoc meeting using your Personal Meeting Room.

Once you're in a Webex meeting:
Click the Apps button in the bottom right corner
Select Slido

Choose your

existing Slido

or

create a new one
This will open a Slido sidebar where you can set everything up and control Slido as the Host of the meeting. 
 
Create your polls

Choose a poll type that you wish to use and add your question. Your poll is saved instantly, so you can Launch it immediately or go back to your list of polls to create more. You can decide whether you want to show poll results for your participants to see once they voted, or reveal them later. 
 
You can adjust the poll settings by clicking the icon. 


If you want to ask multiple questions at once, choose a Survey from the list of polls.

To add another question to your existing poll, click the three dots and select 'convert to Survey' and then 'Add question'. You can also name your survey. 
 
Launch and manage your polls

Once you're ready to launch a poll, click the green Play icon next to it. 
 
Click the three dots next to a poll to access its additional actions, such as Edit, Duplicate or Delete.

You can then use the buttons at the bottom to Hide results, Close voting or Deactivate the poll completely.
 
Manage Audience Q&A

Audience Q&A is disabled by default in Webex Meetings. If you want to use it, switch over to the Q&A tab and click Enable Q&A. 
 

If you also want to review incoming questions before making them appear live for everyone to see, you can also Turn on moderation under the Review tab. 
 

If you're using moderation, you can either Approve or Dismiss incoming questions.

For the questions which are Live, you can Highlight the question that's being addressed so that everyone is on the same page. Afterwards, you can Mark it as answered, which will move it into the Archive tab, leaving room for other unanswered questions.
 
Add a collaborator to help you manage Slido

You can add a colleague from the same Webex organization to help you moderate the Q&A and run polls.

To do so:
Use the  'Login with Webex' option at www.slido.com and enter your Webex credentials
Select the Slido you want to add someone to
Go to Event Settings > Share Access and type in the email address of the collaborator
Click 'Invite'
Once the Webex meeting is live, they'll see Slido admin under Apps - Slido. 
 
New: During the meeting, cohosts and panelists can request Slido access in the Webex sidebar. 
For a detailed guide, please follow the article below:
Display Slido Present mode

If you wish to display Slido Q&A or live polling in a bigger format than just in the sidebar in your Webex meeting, you can open Slido Present mode.

To access Slido Present mode: 
Go to slido.com, click 'Login with Webex' and enter your Webex credentials
Select your Slido
Once you're in, click the green 'Present' button in the upper right corner.
This will open the Slido Present mode in your browser and you can then Share your browser screen in Webex to display it to your attendees.
 
Displaying the Present mode is also useful if you want to share Slido joining instructions for those who can't interact with Slido directly in the Webex meeting client.
How it works for the attendees
Polls
 
Once you launch a poll, Slido sidebar will automatically pop up for your attendees, inviting them to submit their votes. If you're showing poll results, participants can see them after they submit their vote.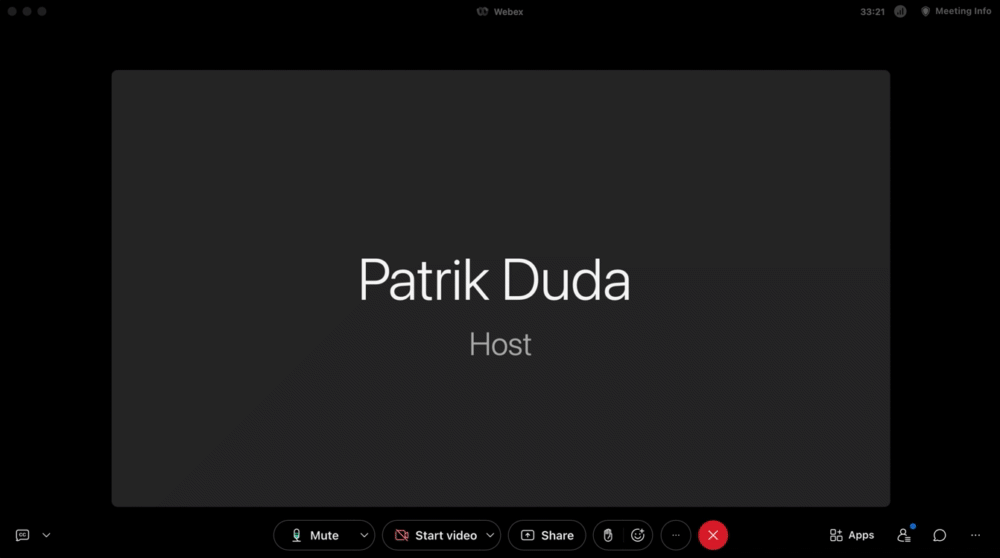 Audience Q&A

If you're using Q&A, your attendees can simply submit their questions either anonymously or with their names. They can also upvote the questions they like which have been submitted by someone else. 

If you highlight a question, this will move it to the top of the list and show it highlighted in blue for the attendees.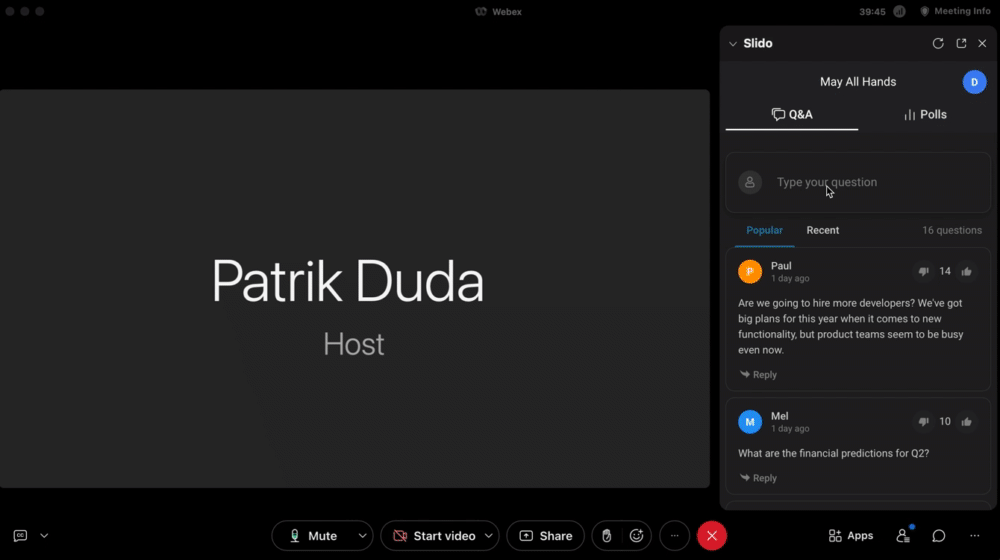 Export your data after the meeting and view analytics

If you wish to export the poll results or Q&A submissions once your meeting is over, just go to the hamburger menu in the sidebar and click Download results > Export > Download export and select your preferred format. 
 

You can also browse the event overview and find out who was the most active participant and how many questions and poll votes you received.

Want to share the data with your leadership or participants? Click Infographics > toggle on public link > copy link. 
Frequently Asked Questions: 
 
Can Slido be used in Webex Webinars? 
Yes, Slido is available for Webex Webinars with up to 10,000 attendees. Quizzes can be used by up to 5,000 participants with webinars. Please note that webcast mode for attendees and Webex Events (classic) are not supported. Hosts need to use Webex desktop app when running the webinar with Slido.

Follow the article below for detailed guide on how to use Slido with Webex Webinars: 
 


Visit our Resources page to browse use cases, Starter Kit, gifs, tutorials for running Slido and your presentation alongside Webex and more
Curious about learning more?