You can use Slido live polling and Q&A directly in Webex Webinars (formerly Webex Events new) with our seamless integration. It's currently available for up to 10,000 attendees, 5,000 if you're using quizzes. 

 
Good news! Slido is now available also in Webcast mode in Webex Webinars for up to 10,000 participants.
 In this article: 
Essential Requirements
Slido needs to be approved and enabled in the Webex Control Hub by a full Webex admin

Webex Webinars app version 41.9 or later

The following domains need to be allowed in your network firewall: slido.com, auth.slido.com, *.slido.com, sli.do, *.sli.do, webexapis.com, slido-assets-production.s3.eu-west-1.amazonaws.com
Current Limitations of Webex and Slido integration:
Slido is available for hosts and panelists (if they're managing Slido) on Webex desktop app only: they need Webex Webinars on Windows or macOS.
Webcast mode for over 10,000 participants is not yet supported
Webex Events (classic) are not supported
Collaborators in Webex Webinars have to be a panelist and use Webex desktop app to see Apps
Internet Explorer 11 not supported
Space meetings are not supported
Webex shared devices and personal devices for hosts are not yet supported
Not available for FedRAMP and end-to-end encrypted meetings
Post-event Slido Analytics are not available in Control Hub
Ideas feature not available
Schedule a Webex Webinar
To start: 
Log in to your Webex platform (e.g. company.webex.com) and click 'Schedule a webinar':
Then, fill out the information about your webinar and click 'Schedule' once finished.
Set up and run Slido during your webinar

You can prepare your Slido in advance at slido.com. 'Log in with Webex', enter your Webex credentials and create your Slido. 

Alternatively, you can set everything up on the day of the event directly in Webex:
Open the Webex desktop app and continue to 'Apps'. 
Click Slido
Select your existing event or create a new one
 
Once you're in, create your polls or turn on moderation of questions if preferred. Creating and managing polls and Q&A during your webinar is similar to how it's done in Webex Meetings. The visual guide below will walk you through it:
 
Please note that the 'Apps' button and Slido are not available in webinar practice session. It will appear once you're live. 
Your participants will be able to interact with Slido directly in the sidebar once you open it via Apps.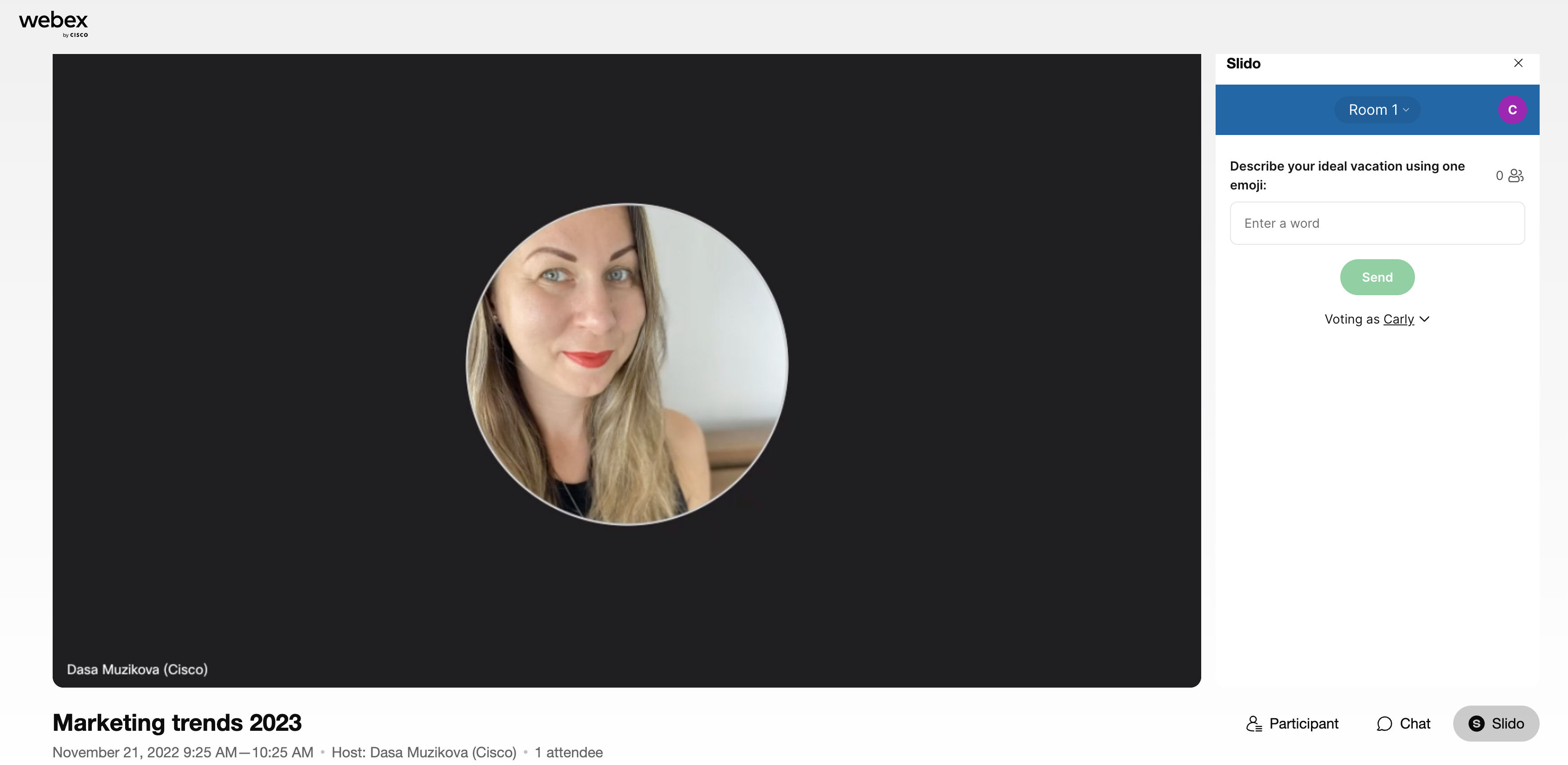 Have a collaborator help you managing polls and Q&A

To help you activate polls and moderate submitted questions, you can add a collaborator to Slido. Collaborators need to have a panelist role in Webex Webinars to be able to see Apps. 

As the Webex webinar host, you should be the first one to open Slido via Apps > Slido during the webinar. Collaborators also need to open Slido via Apps > Slido to be able to help with polls and Q&A. 
Read the article below for more details about the Slido and Webex roles: 
The following articles explain more about Webex Webinars and the difference between a running a Webex Webinar in a webcast mode for the audience and without it.

Frequently asked questions
 
Can I use Slido for webinars over 10,000 participants? 
At the moment, Slido is only supported in Webinars for up to 10,000 attendees. We'll introduce Slido multiple choice poll for bigger webinars in early 2023.  
Curious about learning more?